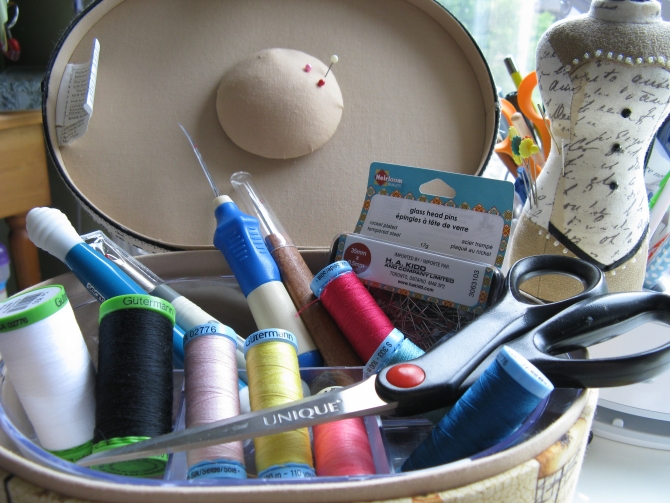 Back when I was first learning to sew, I was given a tool kit of the basics: pins, needles, a seam ripper, a measuring tape, a good pair of shears and a book to help me in the first steps of sewing. Sadly, I chose to make a jumpsuit for myself. Hey, it was the '70s, all the kids were wearing them.
In the many, many, many years since that first styling 1970s jumpsuit, I made countless things — from my own corporate Canada attire, my first child's Christening gown, and so, so many Halloween costumes.
I have probably gone through miles of thread, a mountain of pins and needles, at least four good pairs of sewing shears. When I run out of things, I replace them.

All that changed a couple of weeks ago when I visited the Toronto office of H.A. Kidd and Company Ltd, distributors of Unique products, Gutermann thread, and just about every sewing notion, wonder gadget and must-have creative tool in this great land of ours.
Let's have fun — go to your creative space.Yeah, I know, it's a mess. So is mine. Never mind.
Pick up the first thing you see. You grabbed you favourite seam ripper, didn't you?
Bet you any money whatever you just picked up is a product distributed by H.A. Kidd.
They work to make sure creative types have great supplies and tools at hand so that our creative journey is not only awesome, but also easier. This is a company that cares about what we think, and they are constantly looking for innovations in sewing, quilting, knitting, crochet and multi-crafting.
H.A. Kidd has been in business since 1924. Back then, it was common place for women to keep house, make clothes, darn socks and get great meals on the table three times a day.
Over the years, this company has grown right along with the country. Even as more and more women began to work outside the home, buy clothes someone else made, and eat a great deal of take out, H.A. Kidd made sure there were quality needles to fix hems and buttons to replace the ones that had been lost.
Today, we are seeing a mass return to creativity. The Internet is helping us to share what we do, and teach others to do it too. A lot of us create because we want to have something that is personal to us, to have something tangible to show for our leisure, or to create an heirloom for the next generation.
It's encouraging to know that there is a Canadian company that has stuck with us for nearly 100 years, offering innovative products, and enabling national creativity to flourish.
This week on QUILTsocial, I'll be getting ready for summer's sunny days by creating a fresh and funky case for sunglasses. The basic design can also be adapted to keep sand out of your precious phone or e-reader. I'll be using easy techniques and like most of my creative endeavours, H.A. Kidd products will be part of the process.
We begin tomorrow, come back for the fun — stay for the frivolity.