I had a wonderful time yesterday showing you how I used basic trapunto techniques with SCHMETZ Needles, Sulky Thread and Fairfield Batting to add extra dimension our Artisan Spirit Water Garden heron panel.
Today I'll use a variety of Sulky threads and SCHMETZ needles to accent the heron with beautiful thread painted detail.
Let's have some fun!
What is thread painting?
Thread painting is a free motion quilting technique that involves using the machine needle and thread the way an artist would use a brush and paint. It can be used to add detail to applique and printed designs or to create an image on fabric where none exists.
Very dense stitching can even give the appearance of hand or machine embroidery.
The printed heron on our panel is the perfect place to practice thread painting!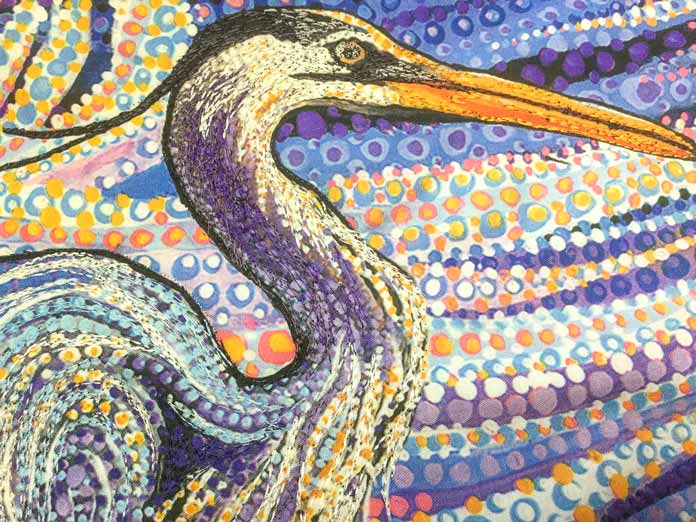 Ready your machine with a SCHMETZ needle and Sulky Thread
I've changed the foot on my machine to an Echo Quilting foot. This is a type of darning foot commonly used for free motion echo quilting, a technique where concentric lines are stitched around a defined area.
The wide base of this foot helps to hold down the quilt sandwich for better tension when thread painting. The wide opening of this foot allows the use of both straight and zigzag stitches.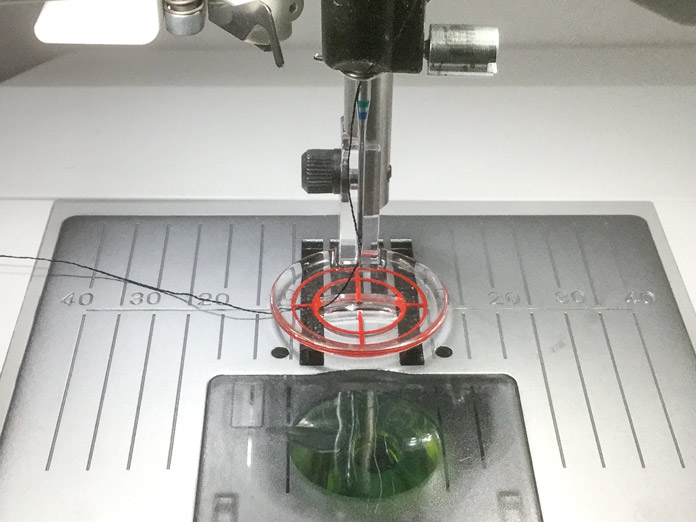 Thread painting uses lots of thread both on top and in the bobbin.
To prepare for stitching I'll wind several bobbins and use all dark thread in the bobbin to create a shadow effect on the back.
As I'll be using several different types of Sulky Threads in the needle I'll also change my bobbin thread for optimum stitching. In this case I've wound bobbins with both Sulky 40 weight rayon and Sulky Poly Deco. I'll use the rayon bobbin for all rayon and cotton threads and a Poly Deco for all polyester or metallic threads.
I'll place a SCHMETZ quilting needle size 90/14 on the machine. When thread painting, a slightly larger than normal needle will help prevent skipped stitches.
I'm using a new SCHMETZ Chrome Quilting needle.
Chrome coated needles resist heat and wear. This means that there's less stitch distortion as the needle stays cool longer even in our high speed machines.
The chrome coating allows the thread to pass through the needles eye with less friction. It also enables the needle to pass through the fabric with less resistance. The result will smooth even stitching and few if any thread breaks.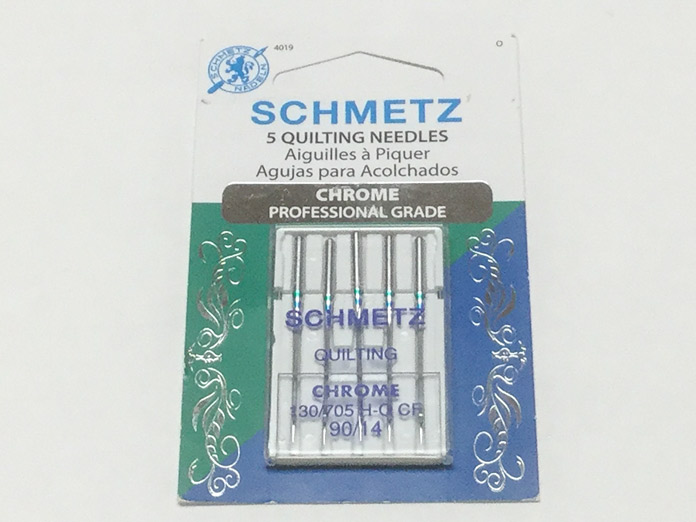 Thread your machine with your darkest thread. Mine is a black Sulky 40 weight rayon. Place a bobbin wound with 40 weight rayon in your machine.
Drop or cover your feed dogs and set your machine for free motion quilting. Refer to your owner's manual if you're not sure how to do this.
Thread painting with a straight stitch
Basic thread painting is accomplished with the use of a straight stitch.
Dimension is added to straight line stitching by stitching back and forth several times while covering the same area.
A wonderful satin like texture can be created by laying each new line of stitching next to the previously stitched line. Move the fabric back and forth in any consistent direction allowing the thread to overlap more in some areas than in others as you continue to build your design.
Long sweeping strokes will give a different visual texture than short concentrated stitching. Layers of different color, type and thickness of Sulky threads help to give the impression of light and shadow while adding visual texture.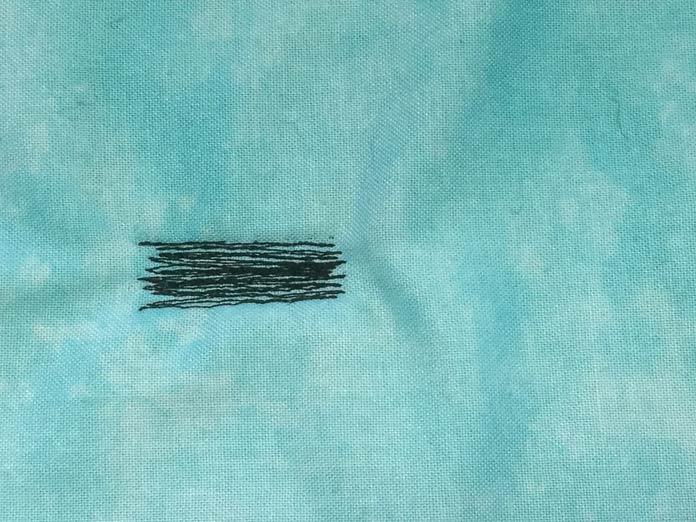 Thread painting with a zigzag stitch
Though it's possible to complete your piece using just a straight stitch, your machine's zigzag stitch can be used to quickly build up layers of thread for a fabulous painterly effect.
Set your machine for a zigzag with a width of 2.5 to 3.
Hand turn through the stitch to be sure that the needle will not hit the inside of your darning foot. The length won't matter as the feed dogs on your machine are still down. You'll still be free motion quilting, the only difference is that your needle will be moving from side to side.
Free motion quilting with a zigzag takes a bit of getting used to but is well worth the effort. The direction that you move your fabric will give remarkably different results.
If you move your hands directly to the left or right you'll get a straight stitch. You can use this the way you would use your normal straight stitch or to travel from one to another without being too obvious.

When using the side to side zigzag as a fill stitch the left to right movement of the needle will help build stitch density and blend your stitching in a way that looks very similar to brush strokes when using a paintbrush.
The faster you move your hands the longer the stitches, creating the appearance of longer brush strokes. Move your hands slowly for dense stitching and the appearance of short brush strokes.
Sulky Rayon and Poly Deco threads work especially well for this technique.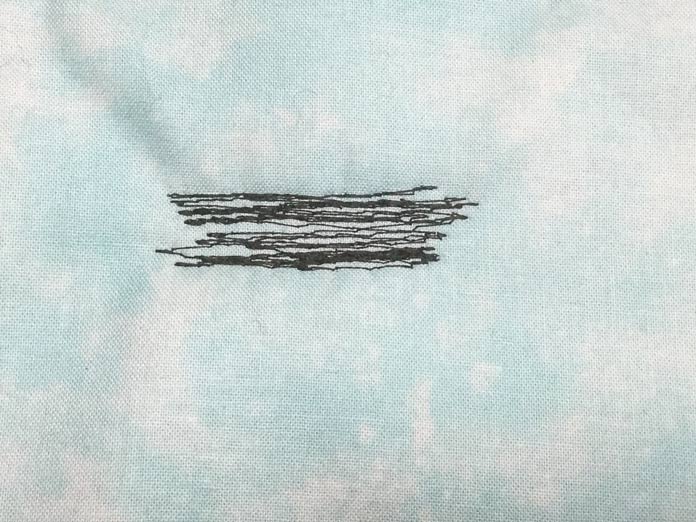 If you move the fabric at an angle you'll see the zigzag in varying degrees. Stitch directly forward or backward you'll see a distinct zigzag stitch. Move the fabric quickly for an open zigzag or very slowly for a free motion satin stitch.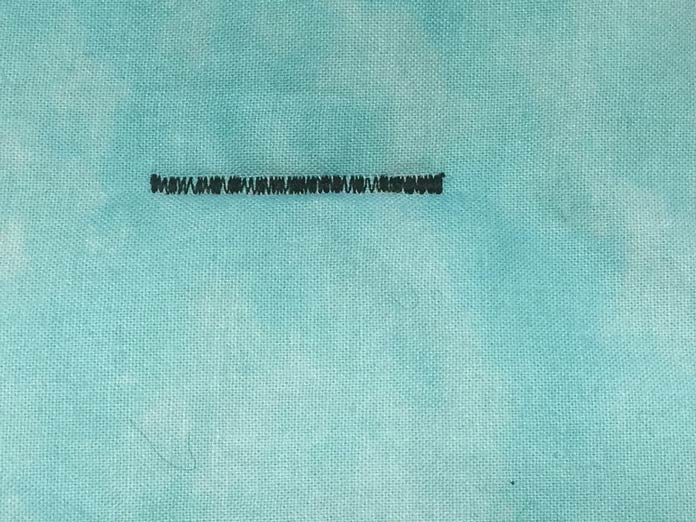 Thread paint the panel
To create a three dimensional appearance I'll stitch the areas that appear farthest away first working forward in layers as I stitch.
For the heron I'll start with the darkest color Sulky thread and a straight line fill stitch to thread paint small sections of the heron back, underbelly, back leg and around the eye.
Switch to a deep blue or purple and continue to accent the base of the wing and top of the back. I'm using a variety of Sulky 40 weight and 30 weight rayons as well as several Sulky Poly Deco for the majority of my stitching.

Change the thread to a deep purple and use a side to side zigzag stitch to add detail to the central portion of the heron's neck.
Continue to add stitching to the darker portions of the back, chest and wing changing the Sulky threads as you go. Use either a straight stitch or side to side zigzag to highlight portions of the printed heron.
Let the Artisan Spirit Water Garden panel be your guide for thread color but don't feel you have to match too closely.
A little variation just adds more life to your stitching. Sulky rayon and Sulky Poly Deco threads are available in so many beautiful colors you'll want to include them all!
Here's a tip
If you run your hand over a thread painted piece the stitches should feel like you're running your hands across the actual subject.
Bark should feel rough, veins on a flower or leaf should feel raised, fur on an animal should feel smooth in one direction and rough in another.
This is accomplished by paying close attention to the direction of your stitching. In this case, we'll need to be sure and stitch the feathers in the same direction as they would naturally lie.
For the next portion of our stitching we'll put a SCHMETZ topstitch needle on our machine. I'm using the new SCHMETZ Chrome Topstitch in a size 90/14. Topstitch needles have a sharp point and an extra long eye. These properties make it the perfect choice for stitching with larger or multiple threads.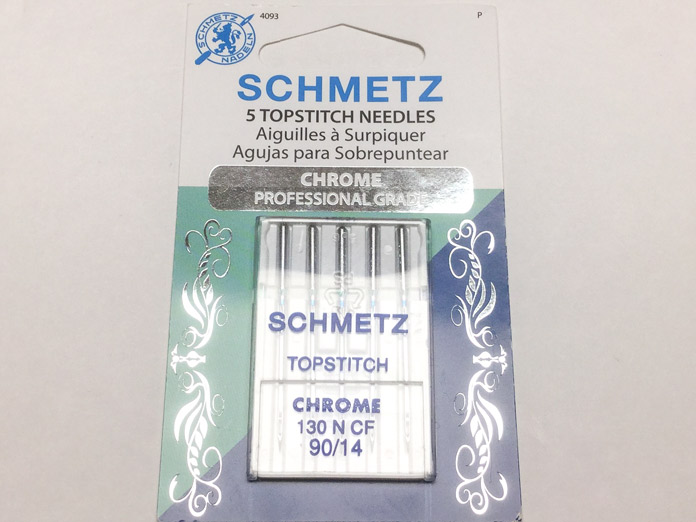 Continue thread painting the heron with Sulky threads and a combination of straight or side to side zigzag stitching. I used a light blue Sulky 30 weight Cotton Blendables next to add some visual strength to the middle layer of feathers along the heron's back and wings.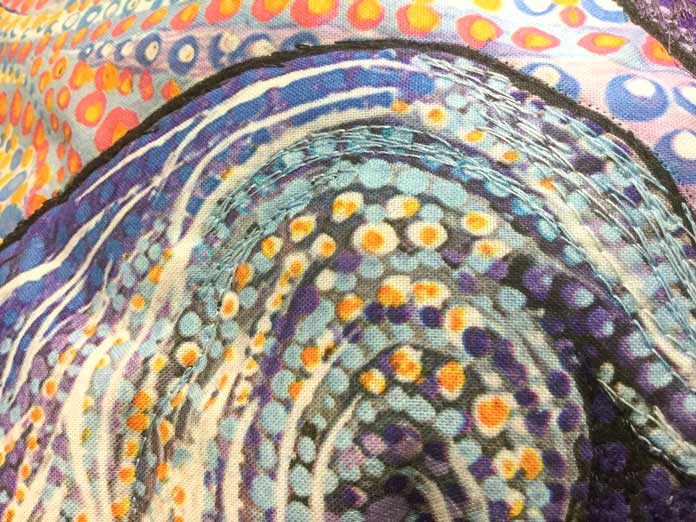 From now on we'll be threading our machine with two Sulky threads through the needle at one time. Simply place a spool of thread on each of your machine's spool pins and thread your machine as you normally would with both threads going through the eye of the same needle. The SCHMETZ topstitch needle makes this easy.
Using this technique will add the perfect finishing touch to our thread painted heron.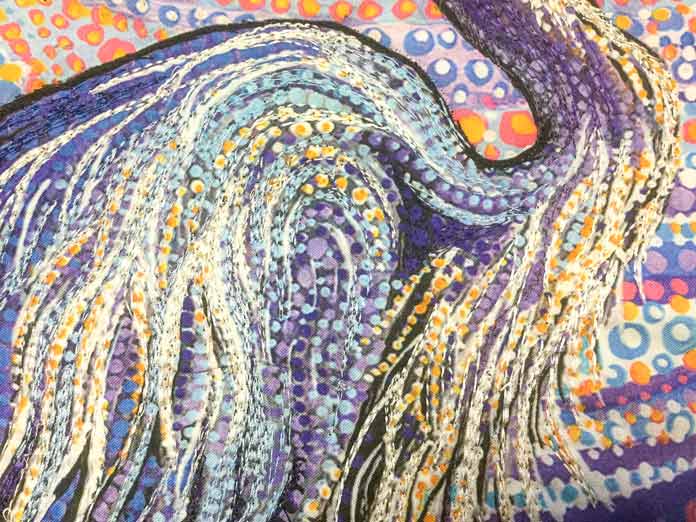 Once you're satisfied with how your heron looks, it's time to add a small amount of thread painting to a random selection of the water lilies. Just a little goes a long way here as we want the heron to be the star.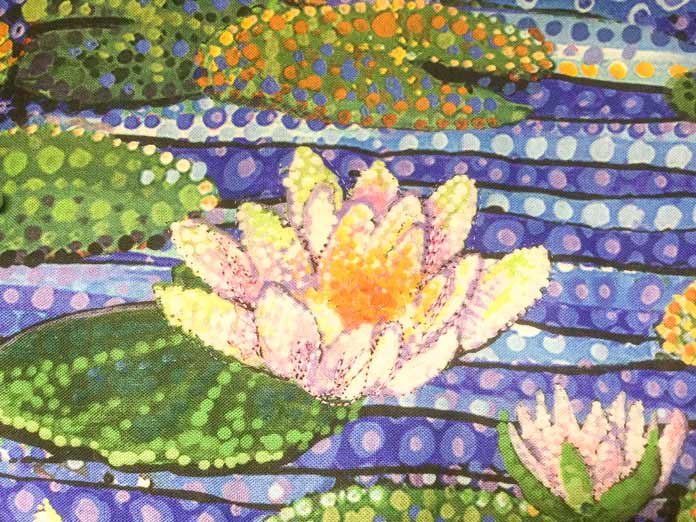 What a fun day!
Sulky Threads and SCHMETZ Needles made our thread painting look amazing!
Join me again tomorrow as we use our perfect pairings of SCHMETZ needles with Sulky and Gütermann Threads to add the background quilting and binding for a fabulous finish.
[shareaholic app="follow_buttons" id="23735596″]