Working with setting triangles using Artisan Spirit – Euphoria fabric
Yesterday on QUILTsocial I talked about the many ways to arrange Log Cabin blocks and I sewed together the blocks for my bed runner. Today I'm going to show you how to sew borders for the bed runner using squares set on point with setting triangles. Nellie Holmes and I have designed lots of patterns with squares or blocks that are set on point and I have come to realize that many people struggle with sewing them together with setting triangles.
Here are some examples of quilts that use setting triangles: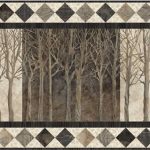 | | |
| --- | --- |
| | This pattern uses the panel and coordinating fabrics from the "Stonehenge Elements" line of fabric by Northcott. |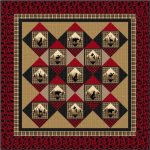 Northwood Cabin by Upper Canada Quiltworks

This beautiful flannel quilt is made with the Northwood line of fabric from Northcott. This version is made using the red and tan colorway.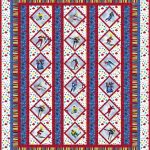 Going for Gold by Upper Canada Quiltworks

Celebrate the winter games with this stunning flannel quilt. Northcott's "Winter Sports" line of fabrics was used to make this wonderful bed size quilt. Pieced Quilt – 79″ x 94″ Also available as a pattern download on Craftsy!
Cutting the pieces for the borders
From each of my four Euphoria accent fabrics, I'm going to cut one strip 3" x WOF (width of fabric) and then sub cut them into eight 3" squares of each fabric.
From the same beige fabric that I used for my sashing, I'm going to cut two strips that are 5" x WOF and then cut these into 5" squares. Each of these squares will be cut in half diagonally TWICE to make the larger setting triangles needed for the border. I'm going to need 15 – 5" squares to make enough setting triangles for both of my borders.
I'm also going to cut four 2¾" squares, each of which will be cut in half diagonally ONCE, to make the smaller setting triangles:
Sewing the squares and setting triangles
Sometimes piecing together blocks and setting triangles can be confusing so I've made a little video that takes you through the steps:
Piecing borders with setting triangles – YouTube
In this video Christine Baker of Fairfield Road Designs shares some of her techniques for sewing a pieced border using setting triangles.
After these borders are pieced together, I need to trim them so that they have a ¼" seam allowance down both sides.
My designer "secret" for pieced borders
This is a trick I use for patterns in which I would like a pieced border BUT no matter what size I make the blocks/sashing/inner borders, there's NO WAY to make the pieced border fit the quilt. All you have to do is make one end of the border pieced (in whatever size blocks you want) and then you can add fabric to the ends of the pieced section to make the finished border the right length for the quilt! It looks more complex than a plain fabric border but is so easy to do!
Now that we have the pieced border sections made, we need to make the borders long enough to fit the bed runner. After trimming the sides of my pieced section so that I have a ¼" seam allowance, my border is 4" wide and 56" long.
I'm going to cut two strips from my beige fabric that are 4" x WOF. Then I'm going to sew one of these to each of the pieced border sections. Now all I have to do is measure the length of my bed runner and cut each of these borders this length (by trimming off the one end of the beige fabric).
My bedrunner measures 83½" long, so I cut each of my borders that length and sewed one border to each side of the bedrunner so that the pieced sections of the borders were at opposite ends of the quilt.
The last thing I want to do with my bed runner is to add a narrow strip of the beige fabric and either end just to separate the accent fabrics that are in the log cabin blocks from the future binding. I cut one 2" x WOF strip and then cut it into two strips 18½" inches long (the width of the bed runner) and sewed these to each end.
Now all I have to do is to quilt it and put on the binding. Hopefully, I'll be able to get to that fairly quickly, but it may end up on my UFO (Un-Finished Object) list for a little while. Back in December I was cleaning my studio and discovered (to my horror) that I had over FIFTY projects that I hadn't finished. Some were small, like a pincushion, and some were just blocks that had been left over from another project and I had meant to "do something with them". I decided to challenge myself to finish all of these projects over this year. I've been slowly working my way through my 52 Week UFO challenge on my own blog Christine Baker – Fairfield Road Designs – I started with over 50 UFO's and have finished over 35 of them so far. You can see all the projects that I've completed so far by visiting my blog.
What's up for tomorrow?
So, tomorrow is my last day blogging for the week and I'm going to use some of the fabrics that I have left over to make pillowcases that match my bed runner. I'll give you my free pillowcase pattern and walk you through the steps on making French seams. I'm really having a blast using these Artisan Spirit – Euphoria fabrics from Northcott! I hope you have enjoyed today's blog and my great tips for sewing borders with setting triangles – see you tomorrow!