Today I'm addressing how to quilt this project.
Setting up properly before starting quilting is a good practice. These are a few of the things I like to do:
Clear space of clutter
Attach walking foot
Make sure bobbin is full
Set the stitch length longer than normal to allow the machine to make an even and visible quilting stitch
The first thing I quilted was the sashing. I stitched along the center of the red sashing and then added additional lines outside of that. This technique anchors the entire piece. I use the sashing as a guide to keep my quilting lines straight but of course, you may mark the quilt in your preferred method.
And please remember to always check the back of the quilt for wrinkles. I know I get carried away with wanting to add more and more lines of stitching, but taking a few minutes early in the quilt process really pays off.
After establishing some basic quilting along the sashing, I added some quilting to each chocolate individually. The key in quilting, if you want the quilt to lay flat or hang well is to quilt evenly over the entire piece.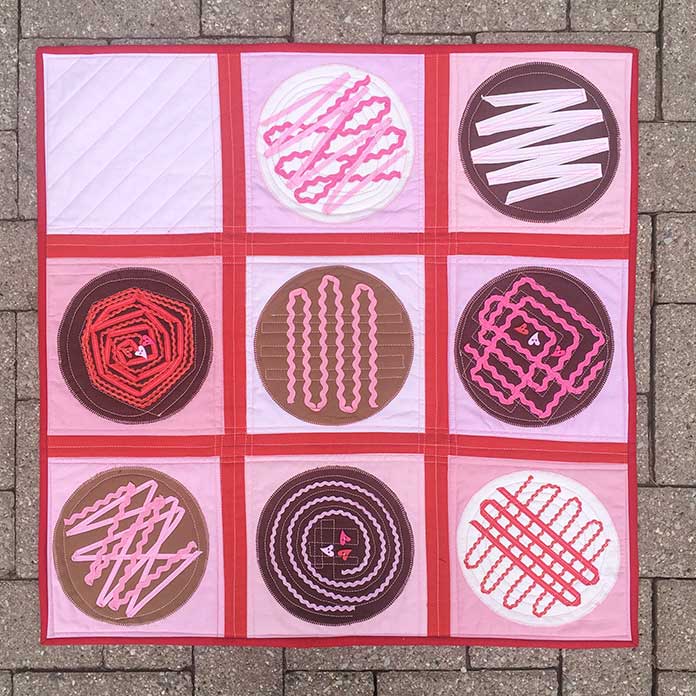 And before you mention it… yes I know I left one of the chocolate spots empty! I like to have my quilts a little wonky and less than perfect, I imagined the chocolate that was in that box has already been eaten. For this section, I chose a simple diagonal pattern. Of course, you may fill your chocolate box to the brim, this is your project after all.
Tomorrow my chocolatiers, I cover the finishing touches and also decorate with Elan novelty buttons!