Ahh…summer is almost here, which makes me think of travel and holiday plans! This year I'd really like to take my sewing machine with me, but the ones I have are not ideal for 'taking along'. I came about this little treasure of a sewing machine that will make it possible to enjoy summer travel with my quilting projects!
The saying goes that great things come in little packages. It's all relative as the exciting package that I'm opening today weighs 15 pounds. Have a peek – do you know what's in the box?
This week I'll be reviewing the H|Class 100Q and all its features. In this week's posts I'll be putting it to the test with a couple of projects.
The H|Class 100 Q is an entry level computerized sewing machine. Although I'll be reviewing the machine from a quilter's point of view, this machine is aimed at the budget minded sewist who is looking for a feature rich machine.
I'm excited – let's get that box open and see what's inside!
Let's have a look and see what comes with the machine.
These are the accessories that come with the machine – needles, bobbins, a brush, auxiliary spool pin, quilting guide, spool case and a screwdriver. All the basics are covered.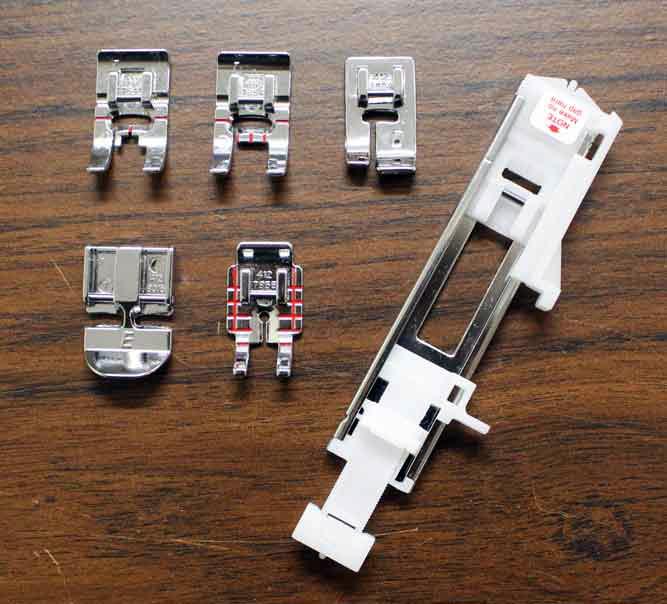 Let's not forget the feet. The H|Class 100Q comes with six feet – for those or you that are familiar with Husqvarna Viking sewing machines – there's the Utility Foot A and Presser Foot B. There's also the Blind Hem Foot D, the Zipper Foot E, the Quilter's 1/4″ Piecing Foot P and a neat looking Buttonhole Slider Foot C (Can't wait to give that one a try). I'll be taking all the feet for a test run and showing you what they are used for.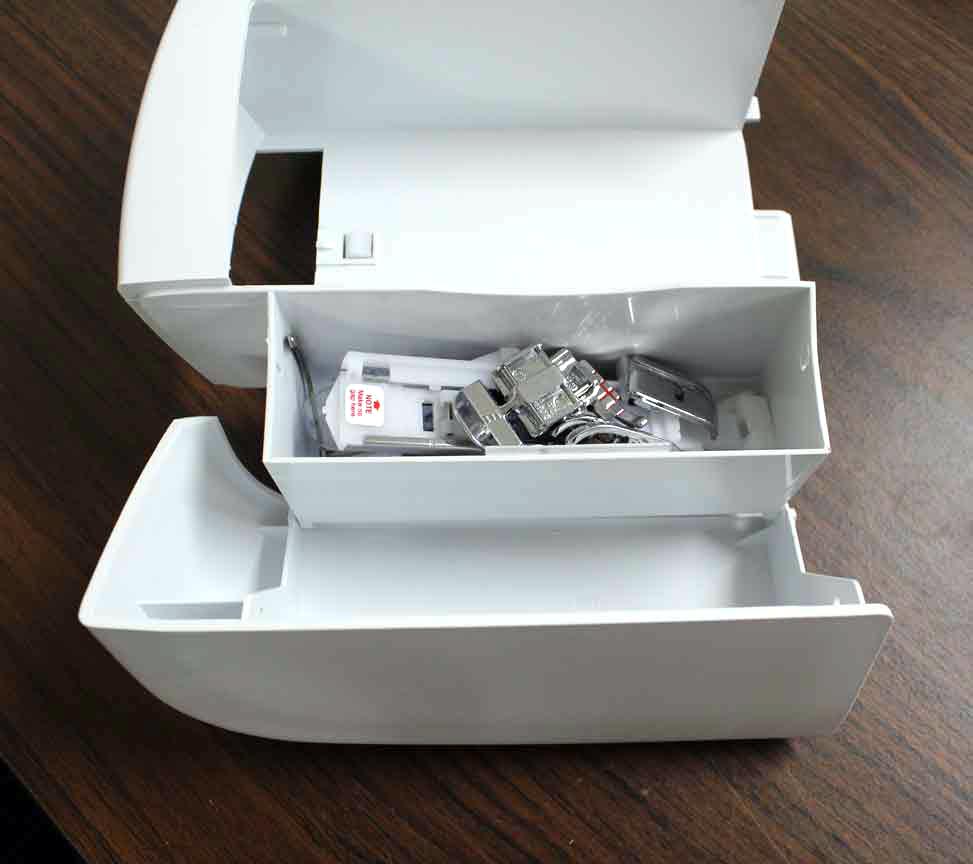 The nice part is that all those accessories fit into a great little tool box – here you can see all the accessories in the box.
The tool box is closed and where does the tool box go??
Very handy at the front of the machine – and the tool box is quite wide which gives a LOT of space before the needle. This is perfect space for matching up seams when you are sewing. I'll show you when I get the machine up and running.
I have been teaching quilting for 14 years and have seen sewing machines of all price ranges in the class room. What surprised me about this machine was that it has some of my "must have" features that I have on my own sewing machine.
I'll go into the benefits of them in greater detail in another post but trust me – they're wonderful features to have on any machine.
There you have it – a lot of great features packed into a very affordable small package. As I mentioned this machine is the entry level computerized machine by Husqvarna Viking. While this is a great machine for a someone just getting into quilting and sewing, I think it'll make a great machine for anyone to take to class, the cottage or a sewing retreat. Remember it has a hard case to protect it from the bumps and jostling of travel and only weighs 15 pounds.
Stay tuned as I put the machine through the test. In addition, I'll be offering up some tips for quilting and sewing. It's going to be a fun week and there is lots to talk about.
Have an awesome day!!!!!!
Ciao!!!!!!!!!!!!!!