Artisan Spirit – Euphoria
This week I'm going to be using Northcott's "Artisan Spirit – Euphoria" fabric line to make a bed runner and matching pillowcases for my bed. My friend Jean Boyd used this line of fabrics for her pattern "Flower Power" and when she was showing the fabrics to our "Fiber Friends" quilting group everyone just LOVED it. When Elaine at Northcott suggested that I use the fabrics for my project this week I was super happy to pick out a selection of fabrics for her to send to me.
It's always a good idea to review the basics of quilting every once in a while, so today before we really get going on the bed runner, I'm going to spend some time sharing with you some great tips for more accurate rotary cutting.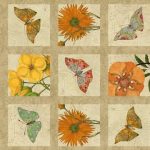 My fabrics have arrived!!
Yesterday my fabrics arrived from Northcott and they were just as beautiful as I had remembered. I'm going to LOVE working with these fabrics this week!
Fabric requirements
If you would like to make your own bed runner and pillowcases, you'll need the following "Artisan Spirit – Euphoria" fabrics:
21304-12 – flower & butterfly squares – blocks – ½yd
21307-24 – red – blocks and borders – ½yd
21307-77 – dark green – blocks and borders – ½yd
21308-58 – light orange – blocks and borders – ½yd
21308-74 – lime green – blocks and borders – ½yd
21306-12 – beige – sashing and borders – ½yd
backing – 1½yd
batting – 25″ x 90″
binding – ½yd
21309-12 – light beige – pillowcases – 1yd
21306-11 – butterfly print – pillowcases – 1yd
21307-24 – red – pillowcase trim – ⅛yd
Rotary cutting 101
There are many tutorials online to show you the basics of rotary cutting. Here's a good one that I found on YouTube:
How to Use a Rotary Cutter – YouTube
Learn the in and out of rotary cutting. Learn how to use each piece and how to properly take care of it. Rotary cutting will change the way you cut out fabri…
Fussy cutting the squares
First, we're going to trim the squares to 7" x 7" – you'll notice that the printed squares are not quite "square" but are instead 6¾" x 6½" – so you'll be leaving about ¼" of the background fabric at the top and bottom and about ⅛" on the sides. If you're finding it hard to measure and center the image, take some tape (or sticky notes like I used) and mark off a 7" square on your ruler.
This may help you to visualize better where you want to cut.
Since I'm making my bed runner for my queen size bed, I've decided that I want it to be between 85" – 90" long. My log cabin blocks are going to be about 12″ wide when finished, so I'm going to need seven blocks. If you want to make your bed runner longer or shorter, just add or subtract the number of blocks that you make.
I found the easiest way to fussy cut these squares was to loosely cut between the squares on the fabric to get the seven images that I wanted, then I accurately cut them with my rotary cutter and ruler. This made it easier to manage the bulk of the fabric while I was cutting.
To trim the squares, center the image under your ruler and cut the right side and top. Then rotate the fabric, line up the cut edges with the 7" lines on your ruler and then cut the remaining two sides (which are now on the right and top).
Squaring up your fabric
For me, the easiest way to rotary cut is to use two rulers. I NEVER line my fabric up with the lines on my cutting board. Instead, I fold the fabric so that the fold in the middle is even with the selvage as seen in this photo:
I place one of my large square rulers on the fabric lining up one of the inch markings with the folded edge that's closest to me. I have to say that this was MUCH easier to do before I started wearing "progressive eye glasses"!!
Next, I butt my long ruler up against the left side of the large ruler.
Next, I remove the large ruler, exposing the right side of the long ruler and then I trim the fabric with my rotary cutter along that edge. Now I have a straight edge and can cut my long strips.
Rotary cutting the strips for the Log Cabin blocks
From each of the four accent fabrics, cut four strips that are 1¾" x the width of the fabric (selvage to selvage). You'll probably notice in my pictures that one of my selvages has already been removed from each of the fabrics. I never used to do this – I would always just cut through that selvage. But I recently reviewed the book Modern Selvage Quilting by Riel Nason and have made a couple projects from the book, so now I'm saving my selvages for future projects. So funny though – I've noticed that 90% of my selvages are from Northcott!!
Finishing up the rotary cutting
Tomorrow on QUILTsocial, I'm going to show you two different ways to make the Log Cabin blocks for the bed runner, but first I need to finish rotary cutting all of the 1¾" strips of the four accent strips. I hope you've enjoyed the great tips for more accurate rotary cutting that I've shared with you today!!
This is part 1 of 5 in this series.